Vera House Welcomes Honorary White Ribbon Campaign Co-Chairs Andrew Donovan and Frankie Jupiter, Announces Event Dates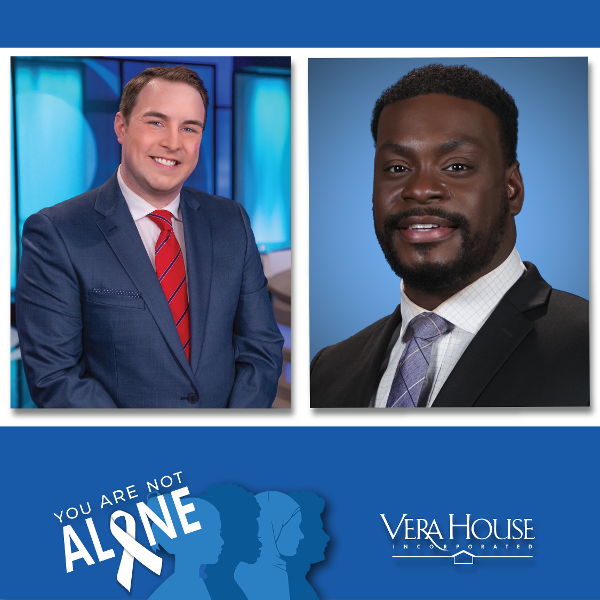 Vera House is delighted to welcome Andrew Donovan and Frankie Jupiter as the Vera House 28th Annual White Ribbon Campaign Honorary Co-Chairs. Donovan is a reporter and the host of Newsmakers, NewsChannel 9. Jupiter is the NBC3 morning anchor, Today in Central New York.
"We are so grateful to have Andrew Donovan and Frankie Jupiter serving as Honorary Co-Chairs of this year's White Ribbon Campaign," say Co-Executive Directors Randi Bregman and Angela Douglas. "They are well-known and respected leaders in our community, and their voices will make a difference."
The Vera House White Ribbon Campaign calls for male-identified adults and youth to join with survivors to end gender-based violence. The campaign is an invitation and challenge from survivors to men and boys to become leaders in preventing violence and healing their communities.
"They're our grandmothers, mothers, wives, sisters, and friends; to be silent about the violence against them equals complacency," says Jupiter. "Silent is what I will not be! Neither should you."
Donovan and Jupiter will speak at the White Ribbon Campaign Kickoff Breakfast, which will take place on Feb. 25, 2022, at 7:30 a.m. at the Marriott Syracuse Downtown. Due to COVID-19 safety protocols, proof of vaccination or a negative COVID test result is needed to enter. Participants can now register online. The registration deadline is Feb. 18.
"After many years of covering the important work at Vera House as a reporter, I'm honored to join the mission as an Honorary Co-chair for this year's White Ribbon Campaign," says Donovan. "To me, this role has already become more than talking about what we should do. It's about making sure I'm reaching the standard in my own life and encouraging my fellow men to understand how to be better allies and support systems for their women partners at home, at work, and in society."
We are also thrilled to resume our annual White Ribbon Campaign Walk for the first time since 2019! The walk will take place on March 25 at noon in Clinton Square.
If you're interested in running a campaign in your workplace, school, faith community, or other space, or if you have any questions about WRC, please contact Special Events Coordinator Andrew Miledonis at (315) 425-0818 or send him an email.
A Message to Andrew Cuomo
"The Friends of Andrew Cuomo" spent over $300,000 to launch an ad campaign designed to paint former New York Governor Andrew Cuomo as a victim of political attacks because of the sexual harassment claims against him. We cannot allow this gaslighting to continue while the ad revictimizes victims of not only Cuomo's sexual harassment but ANYONE who has ever experienced abuse. The tactics used by Cuomo and his supporters further represent the barriers that survivors face every day that prevent them from coming forward and getting support.
We at Vera House have asked Andrew Cuomo to take accountability for the harm he has caused on multiple occasions. Instead of admitting to his wrongdoings, he continues to use power and control to suppress and invalidate the truths of the survivors. Today we released a video, produced by Solon Quinn Studios and supported by Survivors' Network, that sends a powerful message to survivors, "I believe you."
We are asking you to help us amplify the video so that survivors throughout New York and the rest of the world know that we believe and stand with them.
Here's how to get involved:
1. Share our post on Facebook, Linkedin, and Twitter
2. Engage with our content on Instagram and TikTok
3. Share survivor support resources from your organization
4. Tag @verahouseinc
For any questions or to request an interview with a member of Survivors' Network, please contact us at: communications@verahouse.org