VERA HOUSE Board Of Directors, outgoing Co-Executive Director Randi Bregman and Executive Director, Angela M. Douglas Issue a Statement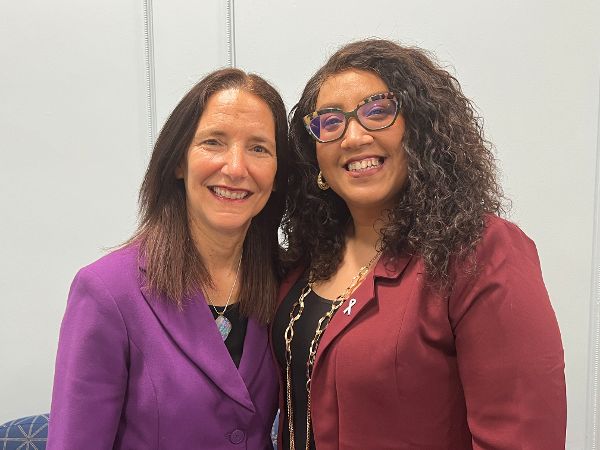 We recognize the impacts of the last several weeks and wanted to share statements from our Board of Directors, Co-Executive Directors Randi K. Bregman and Angela M. Douglas. We also understand the impact of these statements and want you to know that we are here and available to hold, discuss and answer any questions you may have.
We desire you to find some rest, peace, and space this long weekend. Thank you to our staff and volunteers who will continue to serve this weekend and provide critical much needed support. You all are invaluable, seen and deeply appreciated!
Statement from the Board:
September 2, 2022
Staff, Volunteers and Partners,
Vera House's vision is to help create a world free of violence and abuse. The organization's staff, volunteers and partners get us closer to this goal every day. It is the responsibility of the Board of Directors to support these efforts.
The past few weeks have been painful for everyone. Hiring Marcus Jackson was a profound mistake. We apologize for the hurt this has caused you. We apologize to the people who may now question Vera House's priorities and commitment.
It is time to move forward.
Staff Leadership
The Board of Directors met last night to accept Randi Bregman's resignation as co-executive director. Angela Douglas will now serve as sole executive director. Angela was appointed co-executive director in 2020 and the intention at that time was to prepare her to lead the organization. She remains the right person to guide Vera House and execute the Board's vision. It is time to move forward under Angela's direction. To preserve operational continuity, Randi will support the transition. In this limited role she will not set policy or oversee staff.
Further Board Actions
The Board has created a Governance Committee that is reviewing new hiring, personnel and governance policies and procedures. We have also engaged a HR consultant with which we have previous experience to partner with us on these efforts to determine best practices and compliance. We commit ourselves to actively lead Vera House during this time of transition.
Vera House exists to prevent, respond to and partner to end domestic and sexual violence and other forms of abuse. You make this vision a reality every day. We will continue to support your efforts and make a real difference in our community.
Thank you,
Vera House Board of Directors
Statement from outgoing Co-Executive Director Randi Bregman:
Beloved Staff, Volunteers and Community supporters,
My heart breaks as I write to you. These last few weeks have been agonizing. I am very sorry for the hurt and pain I have caused.
In our work, we talk a lot about intention vs. impact. For those that experience harmful impact, intentions don't matter. I understand my original intentions in hiring Marcus Jackson do not matter.
I have been an advocate for accountability when harm is caused throughout my life. As soon as I realized the impact of my decisions, I began speaking with our Co-Executive Director, Board leadership and other stakeholders, wanting to honor the request for me to step down while recognizing the current needs of the agency and those we serve and calls for me to stay and help the agency through the crisis.
In partnership with our board and co-executive director, we have come to a decision that we believe balances accountability and delivering on the mission at this critical time.
I will be stepping down as Co-executive Director effective immediately. I will continue with the organization to support the transition as needed. I am grateful for having had 32 years with an organization whose mission I love and people I will always treasure. Thank you to each and every one of you for your partnership, passion and support.
With love and gratitude,
Randi K. Bregman
Statement from Executive Director, Angela M. Douglas:
Vera House Community,
We recognize that the last few weeks have been some of the most difficult in Vera House history. We first want to say thank you for continually showing up for one another and every victim survivor that has needed us. Thank you for holding space with one another to hold and rumble through the conversations that have been center in our lives for nearly a month. This is our work. It is complex, multifaceted, and critical. Our teamwork and partnership ensure that our mission is being delivered relentlessly across our community. There is so much ahead for us to do.
Living out our values in meaningful ways is who we are and will continue to be. We continually discuss and live out intention vs impact, accountability, healing, and healthy relationships. We also know that all of this is anchored by one being safer, seen and believed. The impact of the last several weeks has been some of the most complex and challenging. For some this feels like betrayal of trust and for others this feels like congruence in the work. Regardless, we must recognize the impact has been devastating for all.
As you know the door to repair and healing is through the one of accountability. Accountability is not punishment, but the heart and action aligned move to acknowledge and be responsible for harm caused. We have been actively opening that door with determination to walk through in hopes of finding our own path to healing... just as we would offer every victim/survivor. It is now time for us to take another step. This is a parallel journey for us as we walk alongside beautiful humans every day pursuing freedom from the pain of impact. Not as an escape, but as a reclaim of who they are. Vera House is walking this same path today. May we continue to walk it together with tenacity and compassion.
Randi has dedicated the last 32 years to ensuring voice, space, safety, and support for every person that has walked through the doors. Her unwavering commitment and her uncompromising pursuit of the rights of victims is rivaled by none. This will not change for her or us. Randi will continue to support the transition by providing her wisdom and expertise as one of the most incredible victim advocates that our state has ever seen.
The need for our services has not stopped during these difficult weeks. Every day, vulnerable victims walk through our doors seeking safety and support. We have served hundreds of victims and survivors while reeling from the impact of the relentless news coverage. Our support line has been flooded with calls; our shelter is full; the needs remain overwhelming.
There is so much ahead of us to do. We need all of us in this work. Our community is strong and resilient. We have determined to be the change we desire to see in the world, and many are counting on us!
With great expectation,
Angela M. Douglas
A Message to Andrew Cuomo
"The Friends of Andrew Cuomo" spent over $300,000 to launch an ad campaign designed to paint former New York Governor Andrew Cuomo as a victim of political attacks because of the sexual harassment claims against him. We cannot allow this gaslighting to continue while the ad revictimizes victims of not only Cuomo's sexual harassment but ANYONE who has ever experienced abuse. The tactics used by Cuomo and his supporters further represent the barriers that survivors face every day that prevent them from coming forward and getting support.
We at Vera House have asked Andrew Cuomo to take accountability for the harm he has caused on multiple occasions. Instead of admitting to his wrongdoings, he continues to use power and control to suppress and invalidate the truths of the survivors. Today we released a video, produced by Solon Quinn Studios and supported by Survivors' Network, that sends a powerful message to survivors, "I believe you."
We are asking you to help us amplify the video so that survivors throughout New York and the rest of the world know that we believe and stand with them.
Here's how to get involved:
1. Share our post on Facebook, Linkedin, and Twitter
2. Engage with our content on Instagram and TikTok
3. Share survivor support resources from your organization
4. Tag @verahouseinc
For any questions or to request an interview with a member of Survivors' Network, please contact us at: communications@verahouse.org