Vera House Announces 2022 Foundation Members and Officers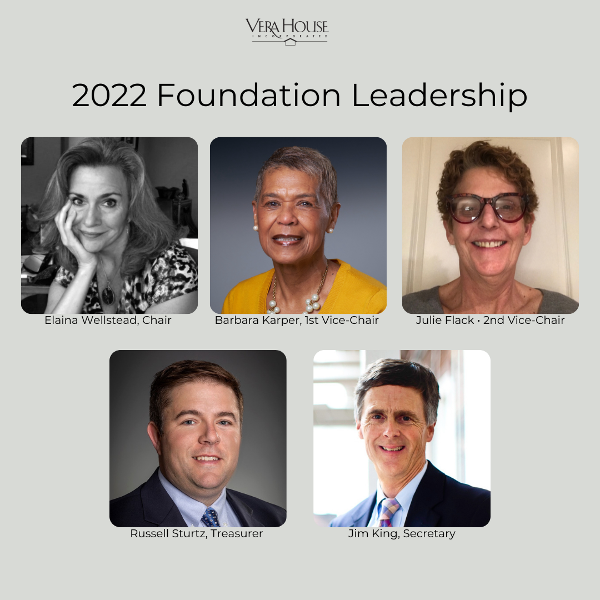 The Vera House Foundation is pleased to share that it has unanimously elected two new trustees and the slate of officers for 2022.
The 2022 class of trustees includes:
Meagan Dean, Managing Partner, McGivney, Kluger, Clark & Intoccia
Barbara Karper, Interim Associate Provost for Student Development, Le Moyne College
The 2022 officers are:
Chair: Elaina Wellstead, President, CHANGE HVAC Marketing
First Vice-Chair: Barbara Karper, Interim Associate Provost for Student Development, Le Moyne College
Second Vice-Chair: Julie Flack
Treasurer: Russell Sturtz, Vice President, Senior Commercial Loan Officer & Team Leader, Solvay Bank
Secretary: Jim King, Partner, King + King Architects
About Vera House
Vera House is a comprehensive domestic and sexual violence service agency providing shelter, advocacy, and counseling services for adults and children, as well as education and prevention programs and community coordination. To learn more, please visit www.verahouse.org.
About the Vera House Foundation
The Vera House Foundation, Inc. is separately incorporated from Vera House, Inc. and was established in 1991 to ensure the long-term financial health of Vera House. It is the mission of the Vera House Foundation to ensure that the important work Vera House does today will be there for those who need it long into the future. Learn more about the Vera House Foundation at https://www.verahouse.org/about-us/foundation.
A Message to Andrew Cuomo
"The Friends of Andrew Cuomo" spent over $300,000 to launch an ad campaign designed to paint former New York Governor Andrew Cuomo as a victim of political attacks because of the sexual harassment claims against him. We cannot allow this gaslighting to continue while the ad revictimizes victims of not only Cuomo's sexual harassment but ANYONE who has ever experienced abuse. The tactics used by Cuomo and his supporters further represent the barriers that survivors face every day that prevent them from coming forward and getting support.
We at Vera House have asked Andrew Cuomo to take accountability for the harm he has caused on multiple occasions. Instead of admitting to his wrongdoings, he continues to use power and control to suppress and invalidate the truths of the survivors. Today we released a video, produced by Solon Quinn Studios and supported by Survivors' Network, that sends a powerful message to survivors, "I believe you."
We are asking you to help us amplify the video so that survivors throughout New York and the rest of the world know that we believe and stand with them.
Here's how to get involved:
1. Share our post on Facebook, Linkedin, and Twitter
2. Engage with our content on Instagram and TikTok
3. Share survivor support resources from your organization
4. Tag @verahouseinc
For any questions or to request an interview with a member of Survivors' Network, please contact us at: communications@verahouse.org