Vera House 25th Anniversary White Ribbon Campaign T-Shirt Contest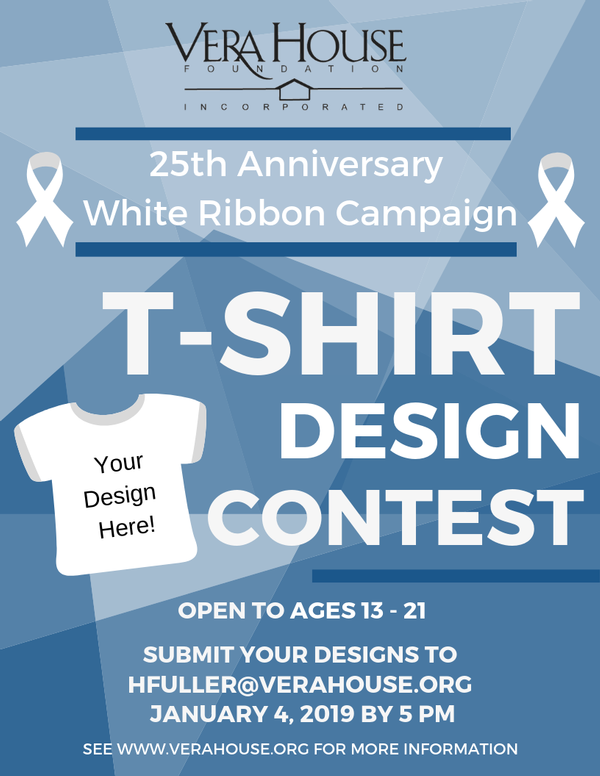 This is your chance to show the world that you #StandWithVeraHouse! 2019 will mark the 25th anniversary of our White Ribbon Campaign. We would like you to join us for this monumental occasion by creating a design for an exclusive 25th Anniversary White Ribbon Campaign shirt, which will be available for sale!
When: Through Friday, Jan. 4 at 5:00 p.m. EST
How: Designs may be submitted to hfuller@verahouse.org or dropped off at the Vera House offices (723 James St, Syracuse, NY 13203)
Artistic Guidelines & Requirements:

Must Include-
"White Ribbon Campaign" text visible
"25th Anniversary" text

May Include -
#StandWithVeraHouse hashtag
#IWill hashtag
Vera House's pledge to "Never support, commit or remain silent about domestic and sexual violence"

May Not Include -
Language or imagery that is considered offensive, defamatory, or in violation of any person's right to privacy or other personal rights consisting of, but not limited to:
Profanity, nudity or material deemed inappropriate or offensive by the judges
False or defamatory statements about any person or any third party
Third party trademarks which suggest affiliation with any trademark owner without permission of such owner or that dilute the value of any trademark
Obscene, indecent, violent, sexually explicit, abusive, discriminatory, racially inflammatory or other morally or legally objectionable depictions of material, in the opinion of the judges.
If an entry includes any of the prohibited elements listed above, the entry will be disqualified, along with the contestant who submitted it.
Prize:
Winners will be notified by email at the close of the decision-making period. The prize is a $250 credit towards White Ribbon Campaign merchandise, 2 tickets to the WRC Kick-Off Breakfast on March 1st, a $50 Amazon gift card, AND 20 free T-shirts. The winner and image of the design will be recognized on our social media.

Here's our complete list of Rules & Regulations
You must complete and return our Acknowledgement Form with your t-shirt design submission.