Your Gift Changes Lives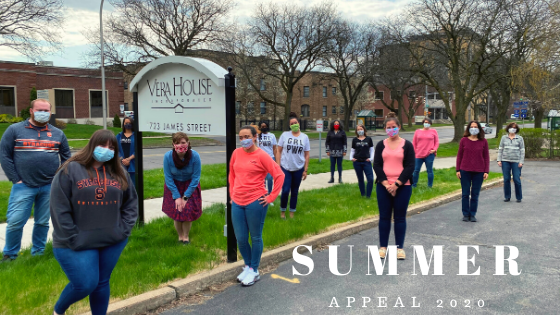 As Cities Around the World Go on Lockdown, Victims of Domestic Violence Look for a Way Out
Time, March 18, 2020
In quarantine with an abuser: surge in domestic violence reports linked to coronavirus
The Guardian, April 3, 2020
These are just some of the headlines we have all seen the last couple of months. Your past support allowed us to adjust quickly to what we are seeing here in our community. And we know the need will be even greater as we move through the COVID-19 crisis.
This pandemic has impacted Vera House financially and in how we serve the community. We had to work to immediately move many of our services to remote delivery so we could be sure those in need could be served. Movement restrictions aimed to stop the spread of the coronavirus are making violence in homes more frequent, more severe and more dangerous.
You know the services Vera House provides are essential. Our advocates helped 10 individuals obtain remote orders of protection in one day, our therapists are being told they are a "life line" during this time, and families are seeking safety at our shelter on a daily basis.
Your donation today will ensure that
our advocates are there to answer the call on our 24-hour support line, or respond to requests for help through our new web chat service,
the shelter staff is available to provide safety for the next family in need, and
our therapists are able to continue to provide hope and healing to vulnerable victims and survivors.
The current and future impacts of the pandemic will place a considerable strain on our resources which is why I am turning to you, as a generous supporter of Vera House, today.
Your donation today will help Vera House continue to be a place of safety and support – a life line – for victims of abuse through this incredibly difficult period.
Today, perhaps more than most, we are hoping we can count on you.
With gratitude,
Randi Bregman
Executive Director
P.S. You can give now by visiting our secure web page HERE or calling (315) 425-0818.
P.P.S. Your commitment of a monthly gift helps us be the most responsive to vulnerable victims and survivors.