Responding to the Tragic Buffalo Mass Shooting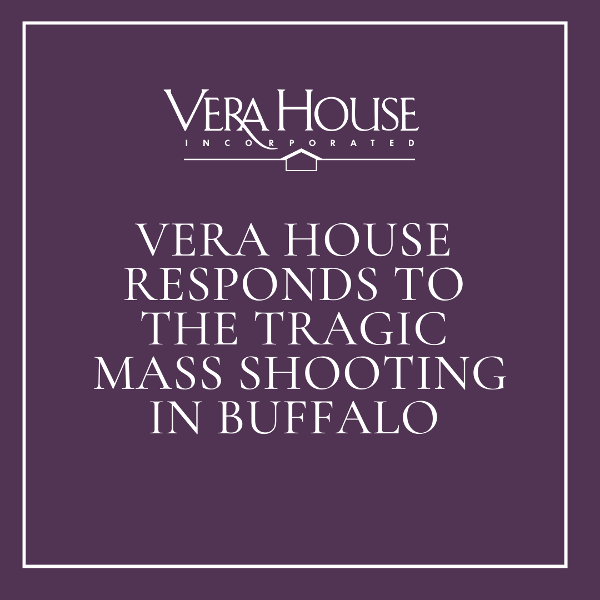 Violent hate crimes rooted in racism predictably result in expressions of shock, anger, and devastation. Many of us struggle to understand how someone could make the terrible choice to shoot and kill people simply because of the color of their skin. To ever have a hope of preventing similar tragedies, we must understand that murder, though extreme, is just one expression of the continuum of white supremacy and systemic racism.
We learned long ago that to prevent violence and abuse, in intimate partner relationships, we must look for early indicators and recognize how verbal put-downs and controlling behaviors can escalate to physical violence. In our educational programs, we also acknowledge how powerful societal messages about gender and gender roles contribute to this spectrum of violence. We emphasize that words can be violent, and when we are silent in the face of harmful words, we are complicit in the harm. We implore others to be active bystanders that address even the earliest signs of violence.
How does this relate back to the tragic hate crime in Buffalo this past weekend? One does not have to look far to see the parallels of complicity. Many refuse to acknowledge the presence of white supremacy and systemic racism that runs rampant throughout our institutions. We elect leaders that deny the reality of microaggressions and "everyday racism." We even ban teachers from educating students about the reality of racism in our country's history and current reality. Public figures promote "replacement theory" which directly feeds into white supremacists' intent of preserving the power of the white race. When we allow microaggressions to fester and refuse to uproot the racism that lives and breathes in our institutions, we are ultimately complicit in the white supremacy that groomed an eighteen-year-old man to drive hours from home with the sole purchase to shoot and kill innocent Black people at a Buffalo grocery store.
In abusive relationships, power comes from exploitation and thrives on fear; the same is true of white supremacy and racism. For people of color, the fear is always present, whether it manifests in the fear of being killed or losing one's job or access to resources. We allow the insidious hatred to bubble, and only when it boils into a horrific murder do we name this disease that is racism.
Thoughts and prayers are not enough. We must call out the early indicators of violence, the everyday micro-aggressions that blister and swell into overt and violent expressions of racism.
We must dismantle the systems that uphold oppression at every level. Ibram Kendi states, "The opposite of racist isn't 'not racist.' It is 'anti-racist.'" Not being racist is not enough. Which side will you choose?
For more resources, click here.
With heavy hearts,
The Executive Leadership Team:
Angela M. Douglas, Co Executive Director
Randi Bregman, Co Executive Director
Colleen O'Brien, Deputy Director of Direct & Emergency Services
Cynthia Britz, Deputy Director of Operations
Sherry Jones, Director of Finance
A Message to Andrew Cuomo
"The Friends of Andrew Cuomo" spent over $300,000 to launch an ad campaign designed to paint former New York Governor Andrew Cuomo as a victim of political attacks because of the sexual harassment claims against him. We cannot allow this gaslighting to continue while the ad revictimizes victims of not only Cuomo's sexual harassment but ANYONE who has ever experienced abuse. The tactics used by Cuomo and his supporters further represent the barriers that survivors face every day that prevent them from coming forward and getting support.
We at Vera House have asked Andrew Cuomo to take accountability for the harm he has caused on multiple occasions. Instead of admitting to his wrongdoings, he continues to use power and control to suppress and invalidate the truths of the survivors. Today we released a video, produced by Solon Quinn Studios and supported by Survivors' Network, that sends a powerful message to survivors, "I believe you."
We are asking you to help us amplify the video so that survivors throughout New York and the rest of the world know that we believe and stand with them.
Here's how to get involved:
1. Share our post on Facebook, Linkedin, and Twitter
2. Engage with our content on Instagram and TikTok
3. Share survivor support resources from your organization
4. Tag @verahouseinc
For any questions or to request an interview with a member of Survivors' Network, please contact us at: communications@verahouse.org