Recipients of 2019 Sr. Mary Vera Award, Annette Briggs Memorial Award and Special Appreciation Awards Announced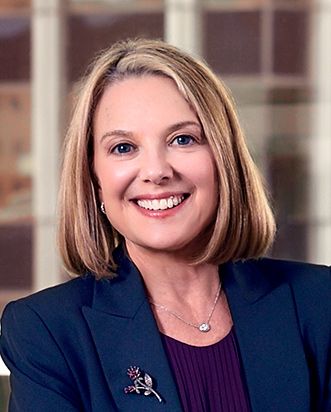 Vera House will present the Sr. Mary Vera Award at the Annual Recognition and Celebration Luncheon at the DoubleTree Hotel on June 12, 2019 to Anne B. Ruffer of Fayetteville, NY. The Sr. Mary Vera Award is given to a member of the community who has made a significant contribution to the fields of domestic and sexual violence prevention and who has performed this work in a manner consistent with the humility, gentleness, and humanitarian spirit reflected by Sr. Mary Vera Blank, one of the agency's founders and namesake.
Anne Ruffer is an attorney at Mackenzie Hughes LLP where is a Managing Partner, Chair of the Firm's Executive Committee and Chair of the Trusts and Estates Department. Anne has been an active Vera House Board Member and Foundation Trustee since 1997. Across the span of these two-plus decades, Anne has used her professional expertise as an attorney and personal resources to propel the mission of Vera House. Through her role as a Monday Night Legal Clinic volunteer attorney, Anne has helped countless individuals by providing free legal advice on issues such as divorce, separation, custody, spousal maintenance and child support as well as assisting individuals with completing petitions for orders of protection.
Anne served as Chair of the Vera House Foundation Major Gifts Committee from 2011 – 2017 and under her tenure, Vera House expanded our "Builders for the Future" planned giving program. Anne stressed the importance of financially supporting Vera House and helped to launch our "Foundation of Hope" Campaign in 2016. The three-year plan was established to raise $1.5 million to build upon the Vera House Foundation assets.
Anne and her husband, Dr. Mickey Lebowitz, served as Honorary Chairs of the Vera House Foundation "New Beginnings" Gala in 2008. "Through Anne's commitment, compassion and dedication, Vera House is able to achieve new beginnings", said Vera House Executive Director Randi Bregman. "Anne's passion for planning for a positive financial future has allowed Vera House the flexibility to grow and adapt for the needs of our community."
Vera House is also honored to present the Annette Briggs Memorial Award, which will be presented in memory of former Vera House Board Member Annette Briggs. Annette's passionate dedication to ensuring that education and awareness about domestic and sexual violence reached the broader community was an inspiration to all who knew her. In loving memory of her legacy, Vera House is proud to recognize Haji Adan, Executive Director of RISE. Haji's work has helped to address the needs of those affected by sexual and domestic violence within the refugee community. Haji is actively involved in securing services, sharing knowledge and relationships for area non-profits to better understand and serve refugee and immigrant victims and survivors.
Vera House will also present Special Appreciation Awards to the Abuse in Later Life Multidisciplinary Law Enforcement Training Team for their commitment to providing training to law enforcement both locally and statewide on topics pertaining to elder abuse; Jinny Caswell, beloved long-standing Family Court volunteer; "Raise the Bar" Workgroup for their collaboration to create safe environments that help to prevent sexual and relationship violence and sexual harassment at alcohol-serving establishments in Armory Square; and Mary Triano, Assistant Dean for Student Affair at SUNY ESF, for her work to ensure that students at ESF are able to receive comprehensive education on the topics of dating and domestic violence, stalking, and sexual assault.
To join us in honoring these most deserving awardees, please call the Vera House Special Events office at (315) 425-0818 x2271 or make a reservation securely online. June Recognition Luncheon tickets are $25 per person and tables of ten are also available for $250. The Recognition and Celebration Luncheon is made possible through the generosity of Visions Federal Credit Union.