Overturning Roe v. Wade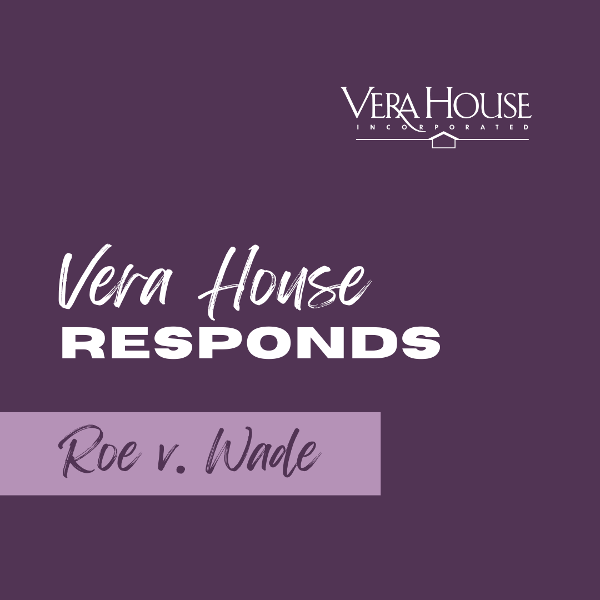 Choice is at the root of Freedom.
Removing the "right to choose" regarding personal circumstances, directly affects the trajectory of individuals' lives and limits their freedom.
In a country where freedom is said to be at the root of the core values, it has become abundantly clear that freedom is limited to groups of certain people only. This truth is reflected in the laws which limit and govern specific groups of folks who have their choices restricted.
The removal of a choice regarding abortion and contraception limits freedom, and in some cases downright fully suppresses it.
People who are victims of domestic and sexual abuse are subjected to oppression of their choices and freedom by their abusers. Removing their ability to make decisions to counter the effects of the abuse entraps them into a cycle with little hope for escape.
Vera House is an organization that serves victims/survivors of domestic and sexual violence and other forms of abuse and believes that all people deserve access to safe, legal, and accessible sexual and reproductive healthcare. This position is rooted in our commitment to protecting our basic human rights to bodily autonomy, informed choice, and survivor-centered care.
When it comes to abortion, Vera House supports a person's right to choose. Vera House centers survivors in our work. We trust survivors to guide our work and center their voices and experiences. Safety and healing are defined differently for each survivor and at the core of survivor-centered work is choice.
Our staff is dedicated to Vera House's five agency values of unconditional care, working in the community, trauma-informed care, intersectionality, and accountability. Here is how our values relate to this recent attack on human rights:
Giving UNCONDITIONAL CARE to the people we serve and our community.
Unconditional means not subject to any conditions. Choosing to become a parent or not is one of the most important decisions a person can make. Regardless of the conditions, we will center the survivor in our work and their choice for what is best for their bodies, their safety, and their lives.
Working in COMMUNITY to advance justice and serve all who seek our support.
Forcing someone to carry a pregnancy against their will is a violation of their human rights. As part of our mission states, we will partner - in our community and beyond - to end all forms of abuse, including this recent injustice that is designed to control, dehumanize, and criminalize pregnant people.
Providing TRAUMA INFORMED care to the people we serve and working toward healing for all.
Trauma-informed care means centering individuals' right to determine what kinds of services are best for them and to access the care that is responsive to each of those choices. The trauma-informed framework calls on reproductive health care providers to be responsive to the fact that many of their patients may be survivors of sexual and/or domestic violence, and for organizations like ours to facilitate access to the reproductive care that survivors may need.
Honoring INTERSECTIONALITY and centering the truths of the historically excluded and oppressed people we serve.
Abortion bans and restrictions affect everyone who can become pregnant, but they fall hardest on those struggling to make ends meet and on Black, Indigenous, and other people of color. One part of building a more just and equitable society is ensuring quality health care, including abortion care, is available and affordable for all. Ensuring that everyone can get reproductive health care, including abortion, is part of addressing racial
and economic injustice.
Embracing ACCOUNTABILITY for ourselves and our community as we strive to interrupt the social norms that cause harm.
Our Supreme Court is supposed to be the most apolitical branch of government. The Justices are supposed to represent everyone and uphold our democratic system. But the rights allotted with Roe v. Wade have been violently stripped away after nearly 50 years of being settled law. How can we hold accountable a system that has historically made steps to extend human rights and has now begun rolling them back?
CLICK HERE TO LEARN MORE
A Message to Andrew Cuomo
"The Friends of Andrew Cuomo" spent over $300,000 to launch an ad campaign designed to paint former New York Governor Andrew Cuomo as a victim of political attacks because of the sexual harassment claims against him. We cannot allow this gaslighting to continue while the ad revictimizes victims of not only Cuomo's sexual harassment but ANYONE who has ever experienced abuse. The tactics used by Cuomo and his supporters further represent the barriers that survivors face every day that prevent them from coming forward and getting support.
We at Vera House have asked Andrew Cuomo to take accountability for the harm he has caused on multiple occasions. Instead of admitting to his wrongdoings, he continues to use power and control to suppress and invalidate the truths of the survivors. Today we released a video, produced by Solon Quinn Studios and supported by Survivors' Network, that sends a powerful message to survivors, "I believe you."
We are asking you to help us amplify the video so that survivors throughout New York and the rest of the world know that we believe and stand with them.
Here's how to get involved:
1. Share our post on Facebook, Linkedin, and Twitter
2. Engage with our content on Instagram and TikTok
3. Share survivor support resources from your organization
4. Tag @verahouseinc
For any questions or to request an interview with a member of Survivors' Network, please contact us at: communications@verahouse.org