Anthony Rosen, M.D. MPH and Alyssa Elman, LMSW to Give Keynote Address at 22nd Annual Elder Abuse Conference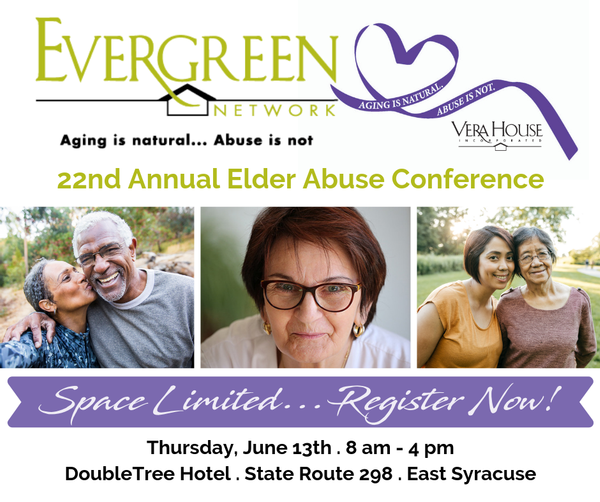 Nationally recognized for his work in the field of geriatric emergency medicine, Dr. Tony Rosen, will offer this year's keynote address at the 22nd Annual Elder Abuse Conference titled, "Transforming the Emergency Response for Elder Abuse Victims" on Thursday, June 13, 2019. The conference, which is coordinated by Vera House, Inc., the Evergreen Network and the Syracuse Area Domestic & Sexual Violence Coalition's Elder Justice Committee and presented by Loretto, will be held at the DoubleTree Hotel, 6301 State Route 298, East Syracuse, NY beginning at 8 am.

Dr. Tony Rosen is the founder and lead investigator of the Vulnerable Elder Protection Team (VEPT) at the New
York-Presbyterian Hospital/Weill Cornell Medical Center. The VEPT program is an emergency department-based, multidisciplinary approach to responding to potential elder abuse or neglect with a goal of increasing identification and enhancing the safety of older adults. The keynote address will focus on helping emergency healthcare professionals identify elder abuse or neglect in a multi-disciplinary way. Dr. Rosen along with Alyssa Elman, a social worker and program administrator for the VEPT, will discuss the VEPT program at Weill Cornell, research findings and lessons learned from their pilot, and discuss how similar approach could be implemented in our community.

This full-day conference will also include twelve dynamic interactive workshops that cover a range of topics relevant to professionals in healthcare, social work, law, finance, and care management. The conference registration fee is $60 and includes breakfast, lunch and a snack. Registration is available securely online HERE or call (315) 425-0818. Our Elder Abuse conference is made possible through the generosity of Loretto, BNY Mellon, Onondaga County Adult & Long Term Care Services, Wegmans and WellCare.
Elder abuse is an under-reported issue that will continually intensify as the United States population ages. The U.S. Census reports that more than 41 million Americans are 65 or older, with elders making up a growing proportion of the U.S. population. It is estimated that 1 in 10 Americans aged 60 and older experience abuse over the course of one year, and older adults who experience abuse or neglect are twice as likely to be hospitalized as other seniors who do not experience abuse. Last year in Onondaga County, 81% of all adult protective reports involved victims 60 years of age or older. Elder abuse can include physical, sexual and emotional abuse, as well as financial exploitation and neglect.