Alternatives Program advocates for accountability to stop the cycle of violence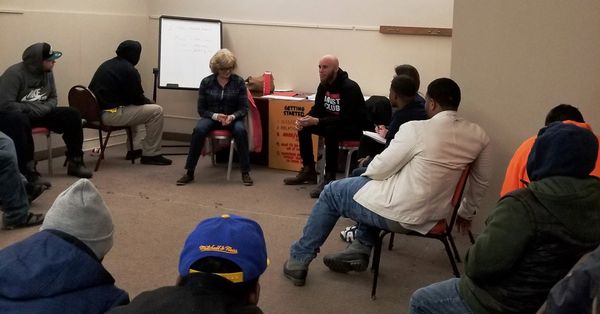 On a brisk March afternoon, men file one-by-one into a building off of E. Washington Street in Syracuse. The men sit in a circle and are mostly silent as the facilitators chit-chat.
"I told him, 'go home and hug your son, and if your son thinks something is wrong, that will tell you everything that you need to know,'" one facilitator said to the other.
The men are here to learn alternatives to violence. The Vera House Alternatives Program has provided a forum for men since 1989. At Alternatives, men learn (through a series of activities and discussions) that they have no right to control their partner and that each person is completely responsible for their own behaviors.
Alternatives works closely with the criminal justice system, advocating that men be held accountable for their abusive behavior. Approximately 400-500 men complete the program each year, 90 percent of participants are mandated to complete the program. In recent months, Vera House has seen an increase in self-referrals to the program.
Attending Alternatives in no way ensures that the person will stop their abuse and violence, but it does teach them better coping mechanisms and how domestic violence affects victims and children.
Desiree Williams, Alternative Program Coordinator and Syracuse native, often finds herself working with people in her community, which makes her more invested in her work.
"The most important thing is facilitating change in their lives, and helping them to be able to make better decisions," Williams said.
Williams was the first in her family to go to college and earn a master's degree. She graduated from Syracuse University with a master's in social work. She never thought she'd be able to attend SU. Growing up in the housing projects, Syracuse was always on the horizon, but her parents instilled a need for education in her. Williams became a Vera House staff member in 2009, and has served as the Alternatives Program Coordinator since 2016.
Williams knows that there is no excuse for abuse, but there are cycles to violence. Fighting may become a survival instinct when you grow up in a rough neighborhood or experience abuse within your family. Alternatives helps individuals take responsibilities for their own actions and get out of chaotic situations safely.
Alternatives is a 15-week program with classes that run for an hour and a half. Orientations are held the first and third Wednesday of each month at 5:15 p.m. Fees are on a sliding-scale based on take home pay. Vera House also offers a program for women who have been abusive to their partners or ex-partners called STEPS.