2020 Annual Report Highlights: Advocacy Program Rises to Serve Clients in Pandemic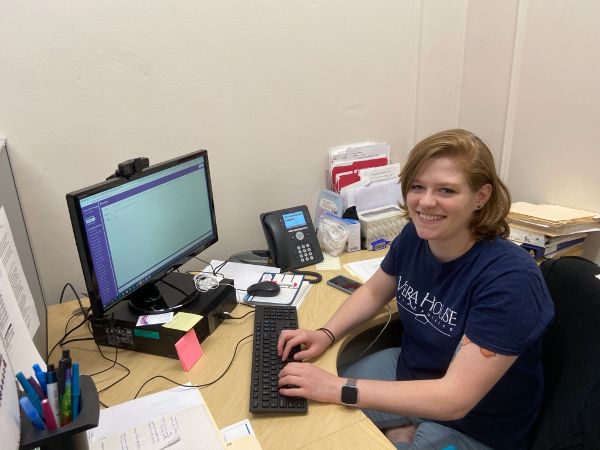 Our Advocacy Program was hit hard by the pandemic.
On April 1, Vera House and the Onondaga County Family Court moved to remote access for family offense petitions and hearings. Advocates worked with victims and survivors to complete petitions over the phone. They also provided in-person support at our administrative offices on an emergency basis. An Onondaga County Family Court judge heard petitions through Skype or Teams at family court, Vera House's offices or over the phone or computer if the client could not attend in person.
On the first day the courts moved to remote access, Vera House helped file 11 family offense petitions. With both systems working in new ways, the two teams partnered over two days to have all the petitions heard remotely.
At the beginning of the pandemic, the Advocacy Program planned to have advocates working fully remote. Within the first day of remote work, a woman and her children came to our offices in need of shelter. We learned it was critical for us to have staff available to provide in-person assistance on an emergency basis.
To connect with people who were isolated at home with people who cause them harm, we launched a support live web chat. This was a service that we wanted to implement pre-pandemic, but it had become essential. The web chat has proved to be an incredible resource to victims and survivors in our community and across the country.
Vera House's support groups transitioned to Zoom. Because Zoom is not accessible for everyone, a small number of participants joined in person on a socially distanced basis.
The Evergreen Support Group, a four-week support group for adults age 50 and older who are living with the effects of abuse in later life, also continued to meet through the pandemic. The group became an especially important source of comfort to victims and survivors during the pandemic because older adults are already more susceptible to experiencing social isolation.
Finally, the Advocacy Program innovated one of Vera House's programs during the pandemic. In collaboration with the Prevention Education Program, they updated the Domestic Violence Education Program and rebranded it as Heal and Reclaim. Heal and Reclaim is a 10-session series that provides participants with skills that foster a sense of self-worth, self-love and ultimately help them work toward healing from the injustices and violence they've experienced.
Visit our Careers webpage to see any openings in Advocacy and other Vera House programs.
Read the full 2020 Vera House Annual Report.