2020 Annual Report Highlights: From Shelter Resident to First-Time Homeowner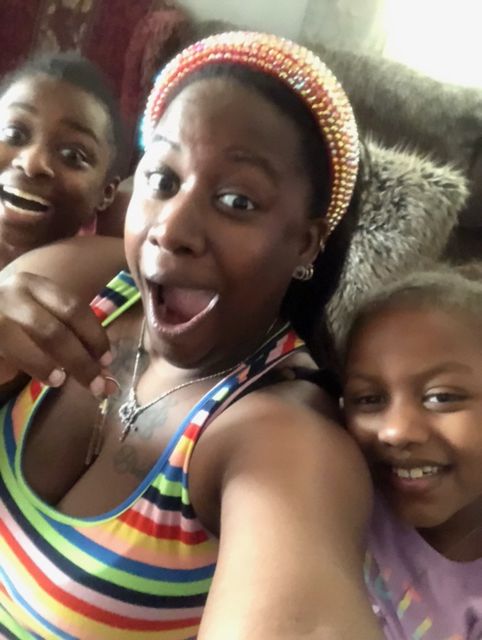 When she was growing up, Shaquoya Williams dreamed of owning her own home. Last year, Ms. Williams became the first-ever Vera House resident to move from our shelter directly into home ownership.
Ms. Williams first met her ex-partner more than ten years ago. After a long friendship, they began dating and married. He had abused her in the beginning of their relationship, but stopped for several years. Toward the end of their marriage, he became abusive again and she began to plan to escape. After a violent episode in July, Ms. Williams left their apartment with her two children.
"I said, 'I've had enough,'" recalls Ms. Williams. "I called my mom and we left with nothing, not even my vehicle."
It was the first time Ms. Williams had experienced being unhoused. Initially, she stayed in a local hotel. After a few days, the family came to Vera House's shelter, where she connected with her caseworker, Juliana Melara.
"All of us are one or two really difficult circumstances away from needing a house. That's why Vera House exists to begin with," says Ms. Melara. "Shaquoya's faith and devotion to her children grounded her in such a powerful way throughout her experience here."
At shelter, Ms. Williams worked remotely and attended classes for her bachelor's degree. Her children attended school on laptops. Sometimes it was challenging for them to live, work and study in the same space.
At the same time, she noticed that her children were happier at the shelter than they had been in their apartment. Throughout her journey from an abusive marriage to Vera House's shelter to her own house, her children gave her hope.
"I thank God and Vera House that it really wasn't a bad experience," Ms. Williams says. "I honestly felt okay. I looked at my children and thought, 'as long as they're happy, that's all that matters.'"
Her lifelong dream of owning her home thrived in shelter, too. Just a month before coming to Vera House, she completed a homeownership class at Home HeadQuarters, a housing and community development non-profit.
"I didn't grow up in a home. I've always wanted to be married and have a home and be happy and live comfortably," says Ms. Williams.
The timing of her transition from shelter to her house worked out "perfectly," she says. Vera House provided her with a $1,000 reimbursement for her offer and home inspection. Ms. Melara secured a queen bed, two twin beds, two twin blow-up beds, cleaning supplies, a living room set and dining room set for Ms. Williams' new home.
"Anything I asked Juliana for that I needed, she provided me to the best of her ability," says Ms. Williams. "She gave me hope. I'm grateful I had a support system like Vera House."
The family is now settled into their new house. Her children have their own rooms and picked out their own beds.
Ms. Williams is close to finishing her degree in psychology and is thinking about the future. She's considering freelancing, wants to complete her book and is interested in exploring photography.
"Things are just beautiful," says Ms. Williams. "I'm truly grateful and happy."
Read the full 2020 Vera House Annual Report.
A Message to Andrew Cuomo
"The Friends of Andrew Cuomo" spent over $300,000 to launch an ad campaign designed to paint former New York Governor Andrew Cuomo as a victim of political attacks because of the sexual harassment claims against him. We cannot allow this gaslighting to continue while the ad revictimizes victims of not only Cuomo's sexual harassment but ANYONE who has ever experienced abuse. The tactics used by Cuomo and his supporters further represent the barriers that survivors face every day that prevent them from coming forward and getting support.
We at Vera House have asked Andrew Cuomo to take accountability for the harm he has caused on multiple occasions. Instead of admitting to his wrongdoings, he continues to use power and control to suppress and invalidate the truths of the survivors. Today we released a video, produced by Solon Quinn Studios and supported by Survivors' Network, that sends a powerful message to survivors, "I believe you."
We are asking you to help us amplify the video so that survivors throughout New York and the rest of the world know that we believe and stand with them.
Here's how to get involved:
1. Share our post on Facebook, Linkedin, and Twitter
2. Engage with our content on Instagram and TikTok
3. Share survivor support resources from your organization
4. Tag @verahouseinc
For any questions or to request an interview with a member of Survivors' Network, please contact us at: communications@verahouse.org