2020 Annual Report Highlights: A Note from Our Co-Executive Directors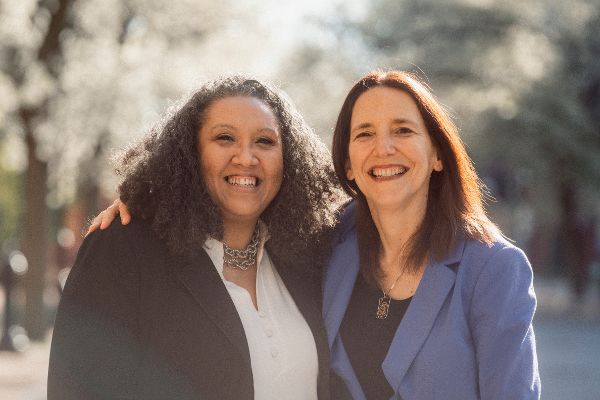 The pandemic began for us with fear: fear when we realized people would be trapped in their homes with people who cause them harm, fear that we wouldn't be able to provide services in the ways we always had. If we weren't available, would they still find support?
Initially, we believed the pandemic would drive an increase in crisis calls, but our numbers remained steady. Instead, the severity and complexity of the cases we saw rose beyond anything we have ever experienced before.
Despite the constantly evolving challenges, our staff were determined to thrive. From the beginning, they were willing to do almost anything to ensure we were open and serving clients. Their passion and dedication have carried us through the pandemic.
To remain responsive, we launched a support live web chat so we could connect with people who couldn't make calls at home. All of our staff were trained to take support calls or web chats. We navigated court system changes that impacted how our clients received orders of protection. We learned how to provide therapy, support groups and our programs remotely. We created a new curriculum, Heal and Reclaim, for adult domestic violence survivors. We reinvested in our shelter, bringing on new talent and building its infrastructure. We discovered new ways to deliver our prevention education content to students.
2020 also brought us another opportunity to commit to our anti-racism and anti-oppression work. To dismantle white supremacy and racism in our own work, our leaders reformulated our advocacy group as The Collective to address racism and oppression in the agency and anti-violence movement. Staff also founded racial affinity groups that allowed us to heal together.
As we look back on the year, we are filled with gratitude to our staff and their loved ones who supported them through the pain of the pandemic. We were reminded again that our greatest value is our people. They create and live our mission every day.
Read the full 2020 Vera House Annual Report.
A Message to Andrew Cuomo
"The Friends of Andrew Cuomo" spent over $300,000 to launch an ad campaign designed to paint former New York Governor Andrew Cuomo as a victim of political attacks because of the sexual harassment claims against him. We cannot allow this gaslighting to continue while the ad revictimizes victims of not only Cuomo's sexual harassment but ANYONE who has ever experienced abuse. The tactics used by Cuomo and his supporters further represent the barriers that survivors face every day that prevent them from coming forward and getting support.
We at Vera House have asked Andrew Cuomo to take accountability for the harm he has caused on multiple occasions. Instead of admitting to his wrongdoings, he continues to use power and control to suppress and invalidate the truths of the survivors. Today we released a video, produced by Solon Quinn Studios and supported by Survivors' Network, that sends a powerful message to survivors, "I believe you."
We are asking you to help us amplify the video so that survivors throughout New York and the rest of the world know that we believe and stand with them.
Here's how to get involved:
1. Share our post on Facebook, Linkedin, and Twitter
2. Engage with our content on Instagram and TikTok
3. Share survivor support resources from your organization
4. Tag @verahouseinc
For any questions or to request an interview with a member of Survivors' Network, please contact us at: communications@verahouse.org