vera house events
White Ribbon Campaign Virtual "Breakfast for Dinner"
Don't miss our 2021 White Ribbon Campaign "Breakfast for Dinner" Event!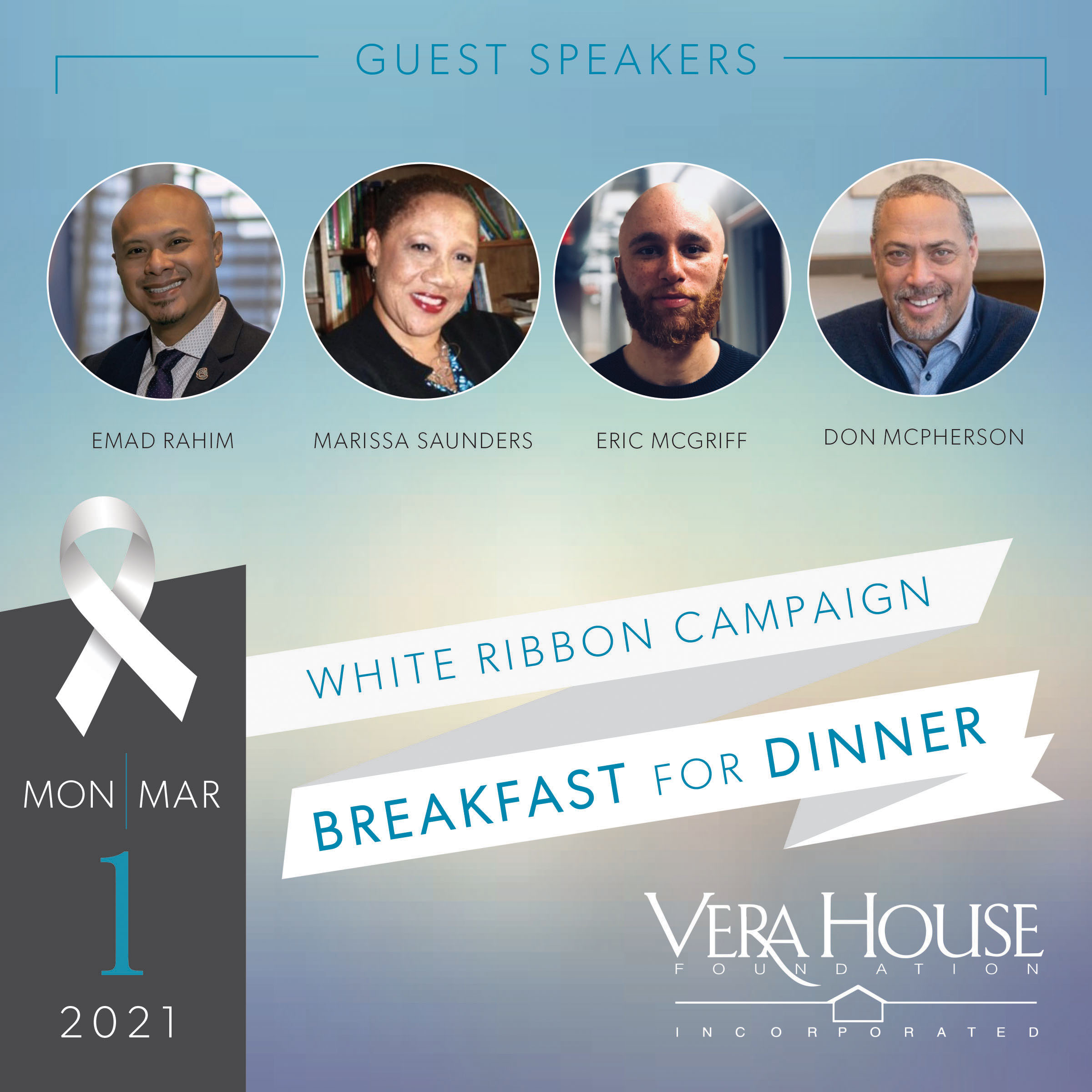 We're excited to kick-off our 27th Annual White Ribbon Campaign, but not excited to host an in-person event yet. So join us virtually on Monday, March 1st at 6:00 pm and have breakfast for dinner with us.
We have a spectaular line-up of speakers including:
GEORGE KILPATRICK - WRC Breakfast for Dinner Host, Vera House Men's Outreach Project Coordinator, 2009 White RIbbon Campaign Honorary Chair
MARISSA SAUNDERS – 2021 White Ribbon Campaign Honorary Co-Chair. Marissa is a victim and survivor of both domestic & sexual violence and is the founder and facilitator at Nurturing Individuals Abilities (NIA) Ministries Worldwide.
EMAD RAHIM - 2021 White Ribbon Campaign Honorary Co- Chair. Emad is a genocide survivor and refugee of the Khmer Rouge Killing Fields of Cambodia, author, KoTouc Family Endowed Professor, and Chair at Bellevue University, and COO at Ztudium.
DON MCPHERSON – Author, speaker, feminist, College Football Hall of Famer. Don uses his platform to advance aspirational masculinity and the promotion of healthy and safe communities.
ERIC MCGRIFF - NYC-based Prevention Coordinator at the Crime Victims Treatment Center, global peace ambassador, facilitator, and trainer and former Vera House Prevention Educator.
Our one-hour program will engage, educate and even empower you to want to help us create a world free of violence and abuse. Generating awareness about domestic and sexual violence is more important now than ever before. During COVID-19, victims and survivors have been socially isolated with their abuser and have faced both physical and/or psychological danger. Be an ally and help us spread the core message of the White Ribbon Campaign across our community…to never support, commit, or remain silent about abuse.
For more information, please contact Events Coordinator, Hannah Fuller at hfuller@verahouse.org.