vera house events
27th Annual White Ribbon Campaign

During the entire month of March,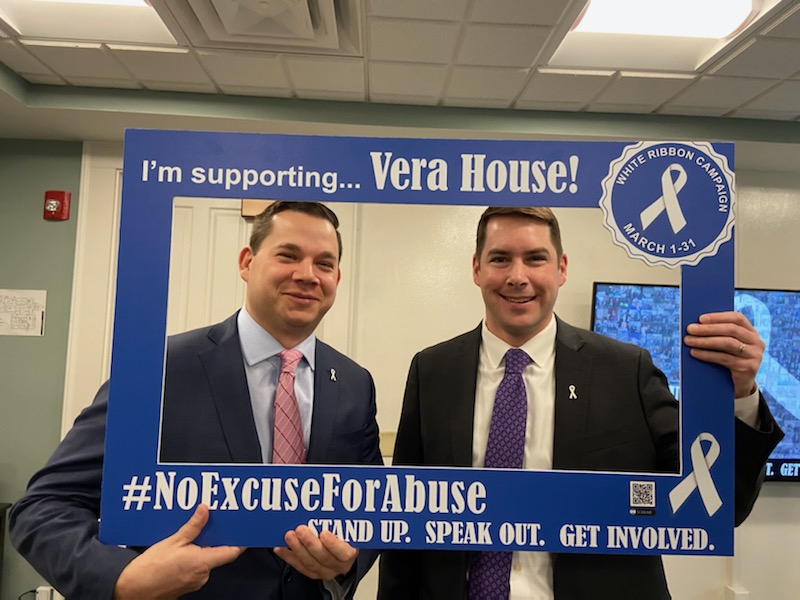 thousands of Central New Yorkers will wear a white ribbon or white wristband to raise awareness of domestic & sexual violence and recognize the 27th Annual White Ribbon Campaign!
The White Ribbon Campaign is led by men and encourages all members of the community to join them in their efforts. This male leadership helps to acknowledge the important contributions men have made in ending violence against women and invites others to take a role.
Wearing a white ribbon or wristband is an important statement. It means you will not support, commit or remain silent about abuse. Show your support and add your name to our pledge!
The 2020 White Ribbon Campaign involved over 20,000 people in the Greater Syracuse community. Stand with us to end domestic and sexual violence and participate in the 2021 White Ribbon Campaign!
If you have questions in the meantime, contact Special Events Coordinator Hannah Fuller at (315) 425-0818 or send her an email.
---
Preordering to sell through the month? Fill out our 2021 Order Form and email it to hfuller@verahouse.org or mail it to Hannah Fuller's attention at our main office (723 James St, Syracuse, NY 13203)!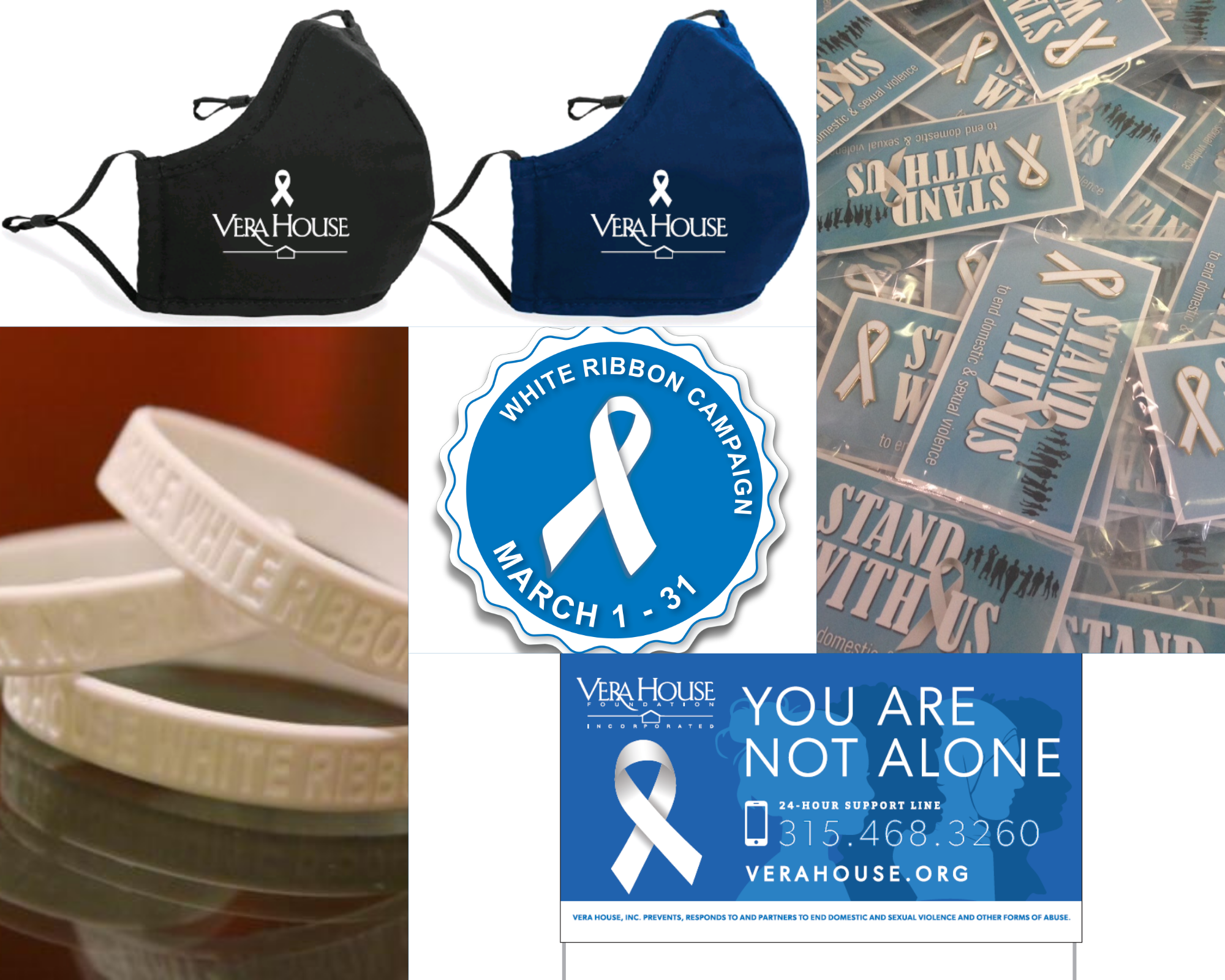 ---
Register for our WRC Emails and Become a White Ribbon Champion
Interested in expanding your knowledge of Vera House, our work, and the White Ribbon Campaign?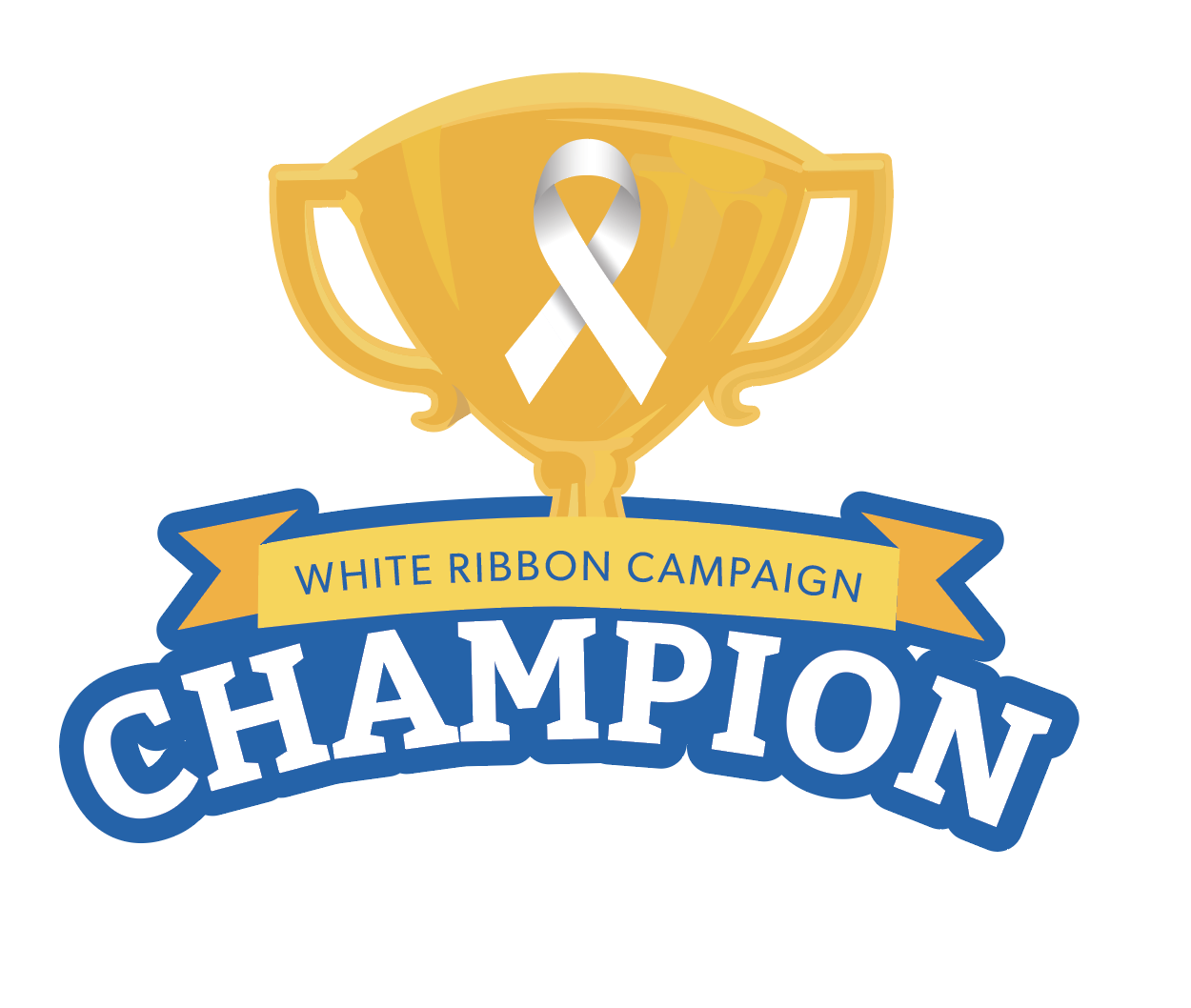 You can register to receive an email from us each week through March to learn about a topic relating to our mission and work.
For a donation of $100, you or your organization can be added to the WRC website and email as a White Ribbon Champion to show others that you support the campaign and are fully participating in our month-long challenge!
At the end of the month, we'll host a virtual discussion to share our takeaways.
Sign on to be a White Ribbon Champion & register for emails at verahouse.ejoinme.org/WRC-Champion
Our 2021 White Ribbon Champions
JPMorgan Chase
Housel Dermatology, P.C.
M&T Bank
Wegmans
Bousquet Holstein PLLC
Bristol Myers Squibb
C&S Companies
Community Bank, N.A.
DeFrancisco & Falgiatano, LLP
Destiny USA
Empower Federal Credit Union
Excellus BlueCross BlueShield
KeyBank
King + King Architects
National Grid
Northland Communications
Onondaga Community College Foundation
Parsons-McKenna Construction Co., Inc.
Syracuse University
Tessy Plastics Corporation
CNY Community Foundation
SRC, Inc.
Advance Media NY (Post-Standard) in honor of Wendy Dirk
Bishop Grimes
Mary Ann Bowering
James Branche
Darrell Buckingham
Center for Community Alternatives
Alena Cerro
City of Syracuse
Carolyn Cordero Dyer
Al Foraker
Geddes Federal Savings & Loan Association
Hand in Health Massage Therapy
HPG Partners
Hueber-Breuer
Human Technologies
Alex Gorski
Ted Gottbrecht
Grossman St. Amour CPAs PLLC
Jim King
Tiffany Lane
Robbin Nicolosi
OneGroup
Rebecca Ortiz
AJ & Jolie Moran
Reagan Companies
Marissa Saunders
Summit Federal Credit Union
Syracuse Stallions
Urist Financial and Retirement Planning, Inc.
Wenger Corporation – Syracuse (formerly J. R. Clancy, Inc.)
Thank you to our Champions for their generous support of the White Ribbon Campaign!
---
Round-Up Your Purchases to the Nearest Dollar for the Campaign!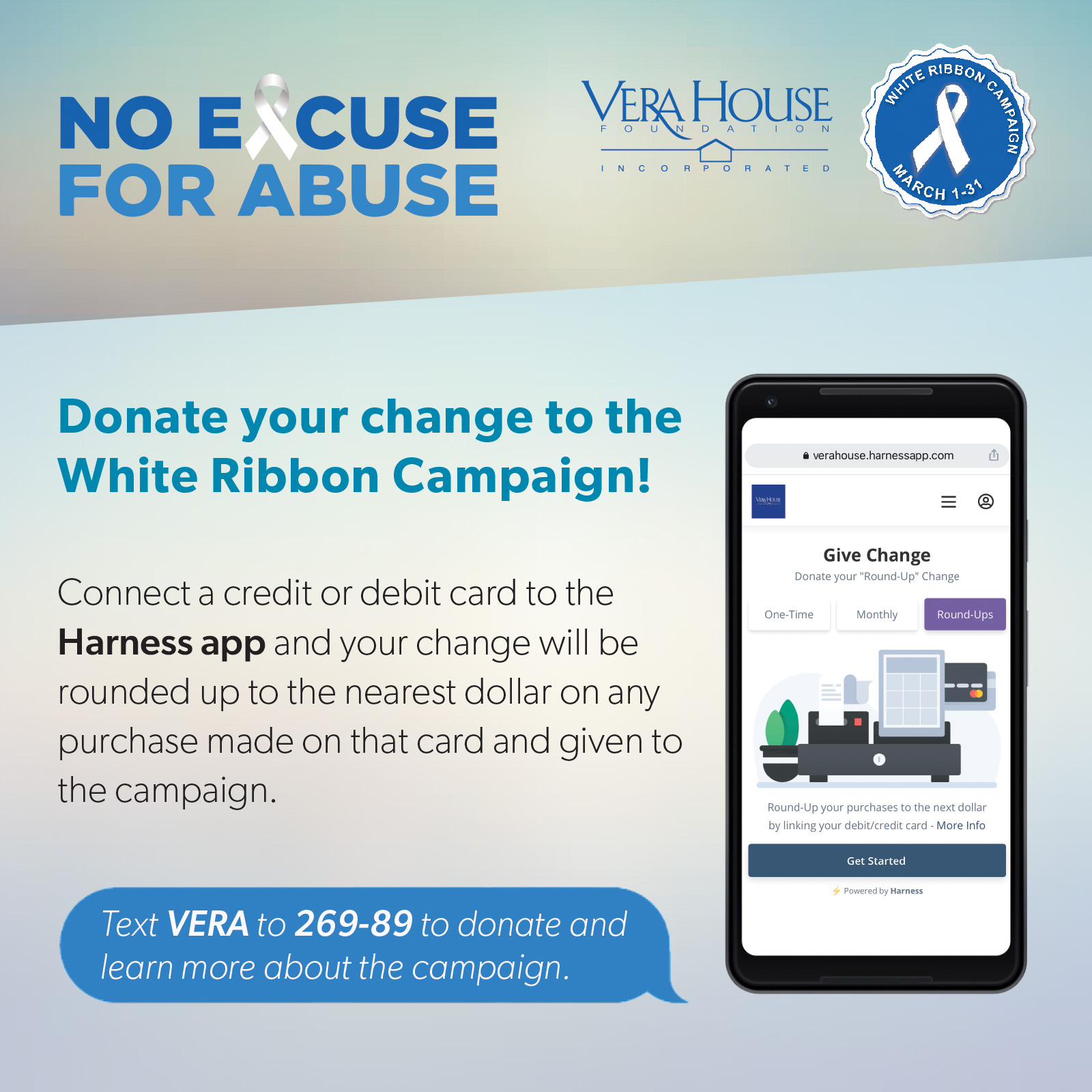 Text VERA to 269-89 or click here to set up your debit or credit card through the Harness app to round-up any purchase made on that card to the nearest dollar with the change being donated to the White Ribbon Campaign!
This is a great way to give comfortably throughout the month! If you're worried about over-spending, you can set a monhtly cap to your round-ups. Once you reach your monthly cap, the Harness app will stop the round-ups until the next month!
Click here to see how to register for round-ups!
---

Instructions on how to make and share your page can be found here!
---
Be the #NextManUp
We are asking male-identifying members of the community to step up and call on one another to be a #NextManUp in the fight against domestic and sexual violence!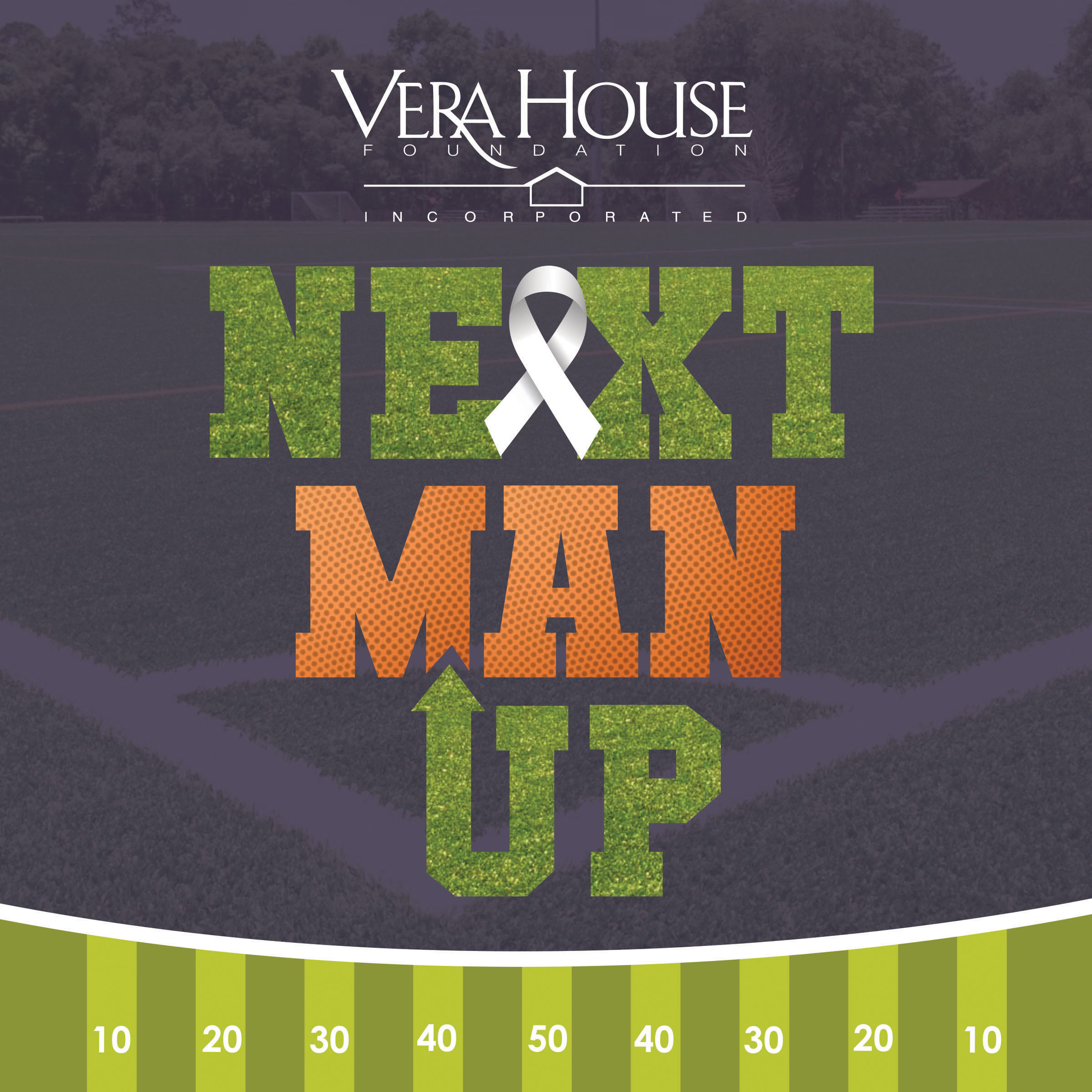 We need YOU on our team to help engage, educate and empower our community!
Post a photo of you on social media along with the answer to the statement "I am proud to be Vera House's "Next Man Up" because…"
Nominate someone else in your post to be the "#NextManUp"
As the White Ribbon Campaign is also a fundraiser for Vera House programs and services, we invite you to donate a monetary gift to support our work.
Be sure to tag @verahouseinc and use the hastags #NextManUp and #WRC2021
---
Grab Coffee or Take-Out to see our WRC Stickers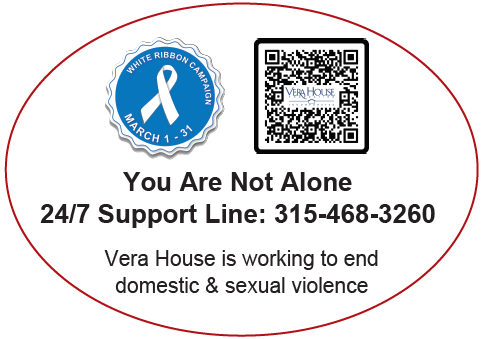 Snag some food or coffee to-go from our local restaurant partners or order from local stores to see our White Ribbon stickers featuring our 24-hour support line and QR code to learn more about the campaign! These stickers can help us get life-saving contact information to victims who may be house-bound AND spread awareness of the White RIbbon Campaign!
Click here to learn more about our sticker initiative and/or request stickers for your business!
Participating Restaurants/Stores
Finger Lakes Coffee Roasters at Destiny USA
People's Place Cafe at Hendrick's Chapel
Thank you to our sticker partners for helping us spread awareness of Vera House and the White RIbbon Campaign! Show your support by stopping in to their shops throughout March!