Web Chat Service Available!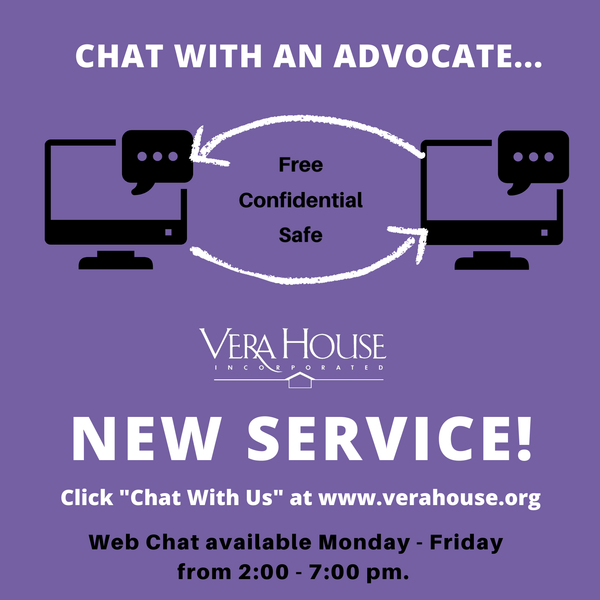 We are pleased to announce the launch of a new web chat service for victims and survivors of domestic violence, sexual violence and/or elder abuse. Web chat is a safe and private way to connect with a Vera House advocate. Web chat is just a click away – to access, one can click on the "Chat With Us" button located at the top of each page on our website.. During the initial launch, web chat is available Monday - Friday from 2:00 - 7:00 pm. Service hours will be expanded soon.
During the COVID-19 pandemic, we know that it's not always safe or easy to talk on our telephone support and information line. Jolie Moran, director of advocacy, said, "While members of our community are encouraged to shelter in place, for victims and survivors this means they may be doing so with their abuser. The access to support services for a victim/survivor is that much more of a barrier during a public health crisis with limited opportunity to find moments free of their abuser. Our hope is that an online chat service may provide a victim/survivor the opportunity to reach out and connect, when picking up the phone and calling may not be safe to do so." For more information regarding Vera House's delivery of service during the current public health crisis, please click HERE.
Vera House is committed to the safety of our clients. Our web chat service is end-to-end encrypted, which means that only the person using it and the advocate they're chatting with can read the contents of the messages being sent. We do urge people to call our 24-hour support and information line at (315) 468-3260 if they believe their computer has been compromised. No technology can prevent information from being read on a device that has a virus, malware, spyware, etc. installed on it.