VERA HOUSE FOUNDATION HOSTS 'NEW BEGINNINGS' NO SHOW GALA WITH HONORARY CHAIRS JOYE AND PIERRE MORRISSEAU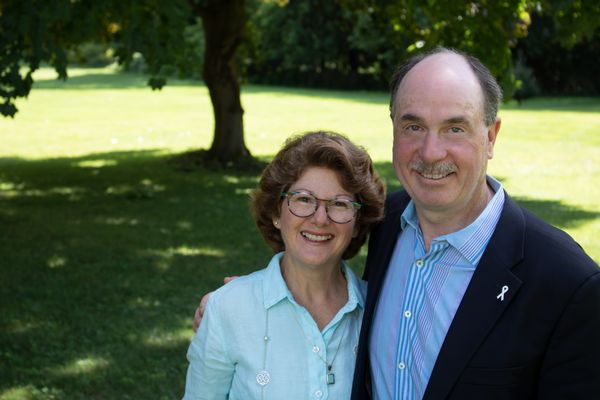 The Vera House Foundation will present the "New Beginnings" No Show Gala on Saturday, December 5th at 6:00 p.m. Our Honorary Chairs, Joye and Pierre Morrisseau, formally request your absence and invite you to join us from the comfort of your home.

"New Beginnings" is the annual gala sponsored by the Vera House Foundation Board of Trustees to support the agency's mission to end domestic and sexual violence and elder abuse. Due to COVID-19, we will celebrate the gala virtually this year. The special evening will include agency speakers, entertainment, and an exciting silent auction! For more information or reservations, please call Vera House's Special Events Office at (315) 425-0818 x2271 or make your reservations securely online. Gala proceeds support all Vera House programs and services including counseling, advocacy, emergency shelter, legal services and prevention education.

We are thrilled to have Joye and Pierre Morrisseau serve as our 2020 Gala Honorary Chairs and appreciate their decades of service and unwavering commitment and support of Vera House.

Joye grew up in Sterling, NY and earned a BFA in illustration from Syracuse University. After graduating from Syracuse University and moving to Boston, Joye worked for a computer software company and eventually went on to work as a freelance graphic designer. Joye and Pierre lived in Boston for three years and returned to Syracuse in 1989. It was during those early years when Pierre had joined the Vera House Board of Directors that Joye volunteered to layout, design and coordinate the Vera House Auction program.

Pierre grew up in Fair Haven, NY and graduated from Syracuse University with a degree in Chemical Engineering. He began his career working in the insurance industry as a Safety Engineer for Wausau Insurance. Through three companies, his career migrated from technical disciplines, organizational development and culture, risk management consulting, sales, management, and currently as CEO of OneGroup. For the past 17 years, he has worked with his teammates at OneGroup to grow the firm from 35 people and 6 offices in Central New York to over 200 people and 19 offices throughout New York State and Pennsylvania. Pierre started his not-for-profit experience with Vera House over 26 years ago as a volunteer on the White Ribbon Campaign Steering Committee. Through the years, he has continued to be an avid supporter of Vera House. His past positions at the agency include Board Vice President, Board President, and White Ribbon Campaign Steering Committee Chair. He is currently a Vera House Foundation Trustee.

Pierre and Joye have been married 35 years and have two children, Erin and Colin. Pierre spends his free time with a diverse range of hobbies – golf, skiing, car racing, flying radio control airplanes, handyman to a 90-year-old house, and eating ice cream (whenever he can get away with it). He is a big cheerleader for the community and has engaged in supporting the ever-growing local entrepreneurial efforts. Joye spends most of her time practicing Tae Kwon Do as a 3rd degree black belt, taking line dance classes, fitness classes, vegetable gardening, landscaping, arts and crafts of all kinds, walking her grand dog Albert, and the biggest responsibility of all—taking care of Pierre.

The "New Beginnings" No Show Gala is made possible through the generosity of our sponsors including Northwestern Mutual; Rick and Diane Clark; Community Bank, N.A.; Cygnus Management Foundation; M&T Bank; One Group; Porter Nordby Howe LLP; Raymour & Flanigan Furniture, Inc.; Wegmans; Central New York Community Foundation; The Dorothy and Marshall M. Reisman Foundation; Julie and Irwin Flack; Mark and Polly Fuller; National Grid; Onondaga Community College; Syracuse Label & Surround Printing and Syracuse University. Media sponsorship is provided by CNY Central and Cumulus Media.