Vera House Clinical Program Supervisor Recognized in FalkTalk Newsletter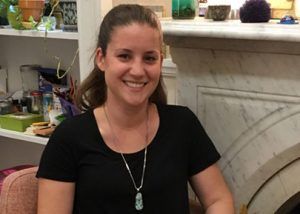 Marriage and family therapy alumna sees rising need for trauma-informed practice

SEPTEMBER 22, 2017 • BY FALK COLLEGE

For alumna Carrie Land-Steves G'09, marriage and family therapy was an obvious career choice. After completing her undergraduate studies in social science, she looked into graduate school and found Syracuse University to be an "immediate fit," from the program and courses, to the professors and students.
As a Clinical Supervisor at Vera House, a Syracuse agency offering comprehensive domestic and sexual violence programs, Land-Steves provides support and guidance to the therapist and carries her own client cases, as well. "The most rewarding part for me is being able to witness people heal, grow, and become the versions of themselves that they want to be. I am honored every day to be able to bear witness to survivor's pain, suffering, resilience, and healing."
There are ways anyone and everyone can help end domestic and sexual violence, says Land-Steves. To start, "Have conversations. Honest conversations," she says. "Domestic and sexual violence often happen in isolation, and if we can continue to have some of these challenging conversations, we can continue to change ourselves, culture, and norms." Or, she says, consider donating your time or resources to an agency like Vera House.
"I see an increase in therapists becoming trauma-informed and this is very hopeful. I would argue that every client who goes into a therapeutic space has experienced a trauma at some point in their life," says Land-Steves. "Being able to assess and identify what the client is needing to heal from that trauma is something that every clinician needs to be able to address, support, and treat." Falk College offers a Certificate of Advanced Study (CAS) in Trauma-Informed Practice, which can equip mental health professionals with additional skills in trauma response and intervention.
"It is our role [as therapists] to create a space where all individuals, couples, and families can process their history or current events and gain more clarity and find healing," she explains. "I cannot imagine myself doing anything else."