Recipients of 2018 Sr. Mary Vera Award, Annette Briggs Memorial Award and Special Appreciation Awards Announced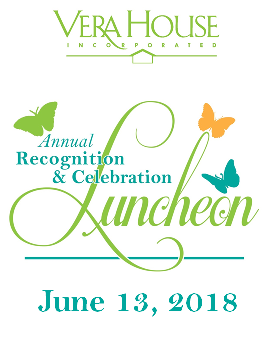 Vera House will present the Sr. Mary Vera Award at the Annual Recognition and Celebration Luncheon at the DoubleTree Hotel on June 13, 2018. The Sr. Mary Vera Award is given to a member of the community who has made a significant contribution to the fields of domestic and sexual violence prevention and who has performed this work in a manner consistent with the humility, gentleness, and humanitarian spirit reflected by Sr. Mary Vera Blank, one of the agency's founders and namesake.
This year's recipient of the Sr. Mary Vera Award is Charles W. Beach, founder and president of C.W. Beach Company and a Vera House Foundation Trustee. Charlie has worked tirelessly for three decades as an ambassador for Vera House. He is a current member and past Chair of the White Ribbon Campaign Steering Committee and the Major Gifts Committee, and has been an active participant on the Foundation's Finance and Investment and "New Beginnings" Gala Committees.
Charlie has played a major role in fund development initiatives for Vera House. He was instrumental in developing the "Builders for the Future" program, which has encouraged other trustees and community members to make planned gifts to Vera House. Through Charlie's dedication and hard work, Vera House has achieved a greater financial stability and the ability to enhance its work to end domestic and sexual violence.
In addition to the Sr. Mary Vera Award, Vera House will present the Annette Briggs Memorial Award, which is presented in memory of former Vera House Board Member Annette Briggs. Annette's dedication to ensuring that education and awareness about domestic and sexual violence reached the broader community was an inspiration to all who knew her.
In loving memory of Annette, Vera House is proud to recognize Monu Chhetri, for her work with the Nepali refugee community and Lindsay Ryan Anthony, for her work as an advocate to the Deaf community.
Monu is a survivor of domestic and sexual violence and has completed training with Vera House to better support and understand domestic violence from an interpreter's point of view. Monu has helped change the lives of Deaf Nepali refugees by teaching them American Sign Language and sharing her own experiences to educate and encourage others experiencing violence to seek services at Vera House.
Lindsay works as a Community Outreach Advocate at WholeMe and volunteers as a Deaf Advocate at Vera House. Lindsay has been able to support many Deaf survivors by helping them trust Vera House to effectively serve them and is often called upon to provide support to Deaf individuals in Vera House's shelters.
Vera House will also present Special Appreciation Awards to Erie Materials, for their dedicated and generous support since 2009, and Pam Janack, for her many years of partnership with the Vera House Prevention Education Program in the Syracuse City School District.
To join us in honoring these most deserving awardees, please call the Vera House Special Events office at (315) 425-0818 x2248 or make a reservation securely online by visiting our website, www.verahouse.org. Luncheon tickets are $25 per person and tables of ten are also available for $250. The Recognition and Celebration Luncheon is made possible through the generosity of Visions Federal Credit Union and Northland Communications.