Coming Together to Help Each Other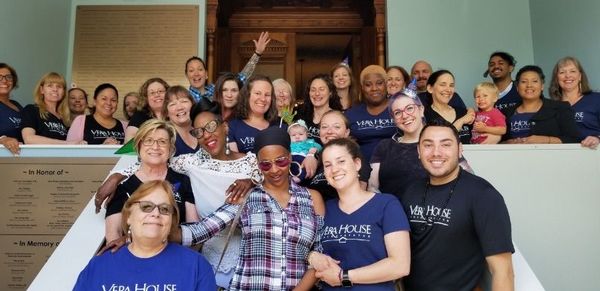 In times of great uncertainty, it is comforting to know that there are people that really, truly care. Our dedicated staff that are on the front lines helping some of the most vulnerable in our community – adults and children impacted by domestic violence, sexual violence or elder abuse – have shown an outpouring of compassion over this past week.
You may have heard it flippantly said, "we're all in this together," but our team at Vera House really mean it. Right now, we're in an "all hands on deck" mode – from our Executive Director to our advocates, therapists, shelter staff, educators and administrators – everyone is coming together to make sure that if someone calls us for help, we will be there to answer.
We want our community to know that if you're unsafe, afraid or are a victim of violence or abuse, we are here to help you. Our support & information line is available 24-hours a day, 7 days a week. Call us anytime day or night at (315) 468-3260. If you're reading this and are not located in Onondaga County, please call the call the National Domestic Violence Hotline at 1-800-799-7233 or the National Sexual Assault Hotline at 1-800-656-4673.
As things are unfolding and changing rapidly, we are doing our best to respond in the moment. You can help us make an impact, please consider donating to support our life-changing work. You will be an important part of helping us create a world free of violence & abuse.
Many may not realize this, but social distancing and quarantine can be very dangerous for survivors. What should be a safe haven may be the one place some are trying to escape. Read "As Cities Around the World Go on Lockdown, Victims of Domestic Violence Look For A Way Out" from TIME for more insight in to this.
We also want to remind you that taking care of your mental health and making self-care part of your daily routine is important. It's hard to escape from the constant barrage of COVID-19 information online, on television, on the radio, through text messages and phone calls. It's okay to step-away and unplug from it all, if even momentarily. Remember to rejuvenate your mind and spirit – talk a walk, read a book, listen to music, take a bath, do a puzzle – DO WHAT MAKES YOU HAPPY. In order to support one another, we need to make sure we're present and fulfilled.
These are unprecedented times and many may not feel that they have all of the information that they may need. We'd like to share a few resources that might be helpful for you:
Remember, if you need us, we are here. Call us 24/7 at (315) 468-3260.
The Vera House family wishes you well!