Sign up for our e-newsletter!
Newsroom
Let Campus Sex Assault Victims Choose Their Response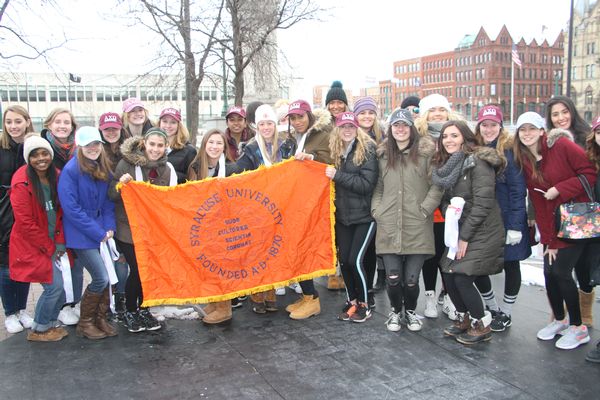 To the Editor:
We are writing in response to John O'Brien's article regarding sexual assaults on the Syracuse University campus ("Disputed law forces Syracuse, other colleges to investigate sex cases without cops," Aug. 10, 2017). First of all, we want to thank O'Brien for covering this important topic, and we want to thank Syracuse University, Syracuse Police and the Onondaga County District Attorney's Office for their efforts on these cases.
Sexual assault on campus is getting a lot of attention these days, with good reason. Studies show that sexual assault is a major problem on college campuses. Though many articles focus on female students as victims, male and transgender students are also often victims of rape and sexual assault.
We are writing today because we frequently hear cries that all of these cases belong in the criminal justice system. We strongly agree that any victim of campus sexual assault should have access to justice through law enforcement and criminal prosecution, if that is what they desire. Syracuse University representatives explained the requirements of federal and state laws prohibiting them from sharing information with police that student victims do not want shared. For us, this is about more than legal requirements. It is about the right of the victim to make choices, to be heard and to have their own sense of agency. We strongly believe that every victim and survivor have the right to choose the response that is right for them.
Most rapes, on campus or off campus, are never reported to police. There are a number of reasons for this that cannot be adequately addressed here, but suffice it to say that the criminal justice system is not for everyone. The campus justice system can really work for some survivors, who want support from their campus and want the perpetrator held accountable. In this case, the student perpetrator was expelled, which is the ultimate accountability on campus. Under New York's Enough is Enough law, students who are expelled for a violation of the student conduct code have a notation on their transcript so other campuses will be aware if the student chooses to transfer.
Victims often don't come forward to the criminal justice system because we live in a culture that is frequently victim-blaming, shaming and non-supportive. Ultimately, our hope at Vera House is to change our culture to one that no longer excuses perpetrators' behavior or blames victims, but we have a long way to go to accomplish this.
If you are interested in discussing these issues further, please feel free to contact us at (315) 425-0818 or info@verahouse.org.
Tiffany Brec, Campus Project Coordinator
Jolie Moran, Advocacy Program Coordinator
Randi Bregman, Executive Director