Sign up for our e-newsletter!
Newsroom
End the Stigma, Start a Dialogue to Stop Sexual Violence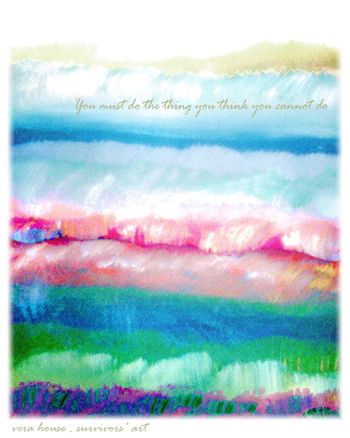 By Evelyn Kohr, Vera House Survivors' Network member

As we now find ourselves in March, Vera House's White Ribbon Campaign month, I want to take a moment to address what's going on in our country from a different perspective: that of a survivor of sexual violence.
I was raped and almost killed at the age of 21 by an undocumented Mexican immigrant who burglarized the apartment in which I was living. Wearing a ski mask and holding a knife, he stood over my bed, woke me, and subjected me to unspeakable acts of sexual violence. I fought back, escaped, reported the crime, worked with the police during the investigation, testified against him, and even had the opportunity to read a victim impact statement before him and the court. My offender was sentenced to 33 years in prison. While I certainly feel as if I got legal justice for the horrible crime that was committed against me, the course of my life was forever changed by the actions this man took.
Some may feel that my experience supports the idea that all Mexican immigrants are rapists and criminals. However, I do not associate the acts of one man with an entire group of people. In fact, I strongly oppose the current anti-immigrant policies. Building a wall to prevent undocumented immigrants from entering our country will not put an end to sexual violence, nor will banning entry by individuals of particular national origins and religions or deporting undocumented immigrants who are stopped for mere traffic violations.
What will? I believe the first step is engaging in dialogue about sexual violence to eliminate the victim-oriented stigma associated with it. I did not hesitate in reporting the crime, but it took over 10 years to make the decision to share my experience with more than just a close group of friends and family members. This was in part due to fear that I would encounter the backlash that so often follows when a survivor is brave enough to come forward: disbelief of the survivor's account, while the offender is defended vigorously (sometimes despite strong evidence of guilt or even a criminal conviction); victim blaming ("What was she wearing?"), while the offender is offered leniency ("That is a steep price to pay for 20 minutes of action."). It is this backlash that prevents so many other survivors from reporting the crimes committed against them and from seeking help in recovering from these crimes, help they so desperately need.
Challenge yourself and rethink your response the next time you hear about an incident of sexual violence. It occurs to me that I may be subject to less backlash than most, given the fact that I was raped by a stranger and that the stranger was an undocumented immigrant. I'm sure some of those reading this commentary may recall questioning survivors, even if only in instances where the facts weren't so "black and white." I ask you to challenge yourself and rethink your response the next time you hear about an incident of sexual violence. It is no less serious and causes no less trauma when perpetrated by someone known to the survivor. Further, questioning survivors based on the identity of the offender only feeds into stereotypes that certain people are more likely to commit acts of sexual violence than others. Yet sex offenders come from all walks of life: They are American, foreign, white, black, male, female, disenfranchised, and in positions of power. Every sex offender deserves to be held responsible for his or her actions, regardless of his or her identity.
Equally as important as engaging in dialogue about and changing our response to sexual violence is being conscious of what we do, often unknowingly, to foster a culture in which sexual violence is normalized and perpetuated. Participating in what is frequently trivialized as "locker room talk" is one example. The objectification and degradation of others conveys that dehumanizing another person is normal and acceptable. At its extreme, "locker room talk" suggests that we have a right to another person's body. These attitudes promote sexual violence. You may have been a witness to "locker room talk" or similar behavior, or even engaged in it yourself. Unfortunately, we often do not realize the impact of our words and behavior. Simply being more aware and using our voices and actions to send a message which refuses to condone sexual violence and supports those who have been impacted by it could have a profound impact on the way in which our society treats the issue, to the point that sexual violence becomes less prevalent.
Please know that I share my experience not as an attack against the current administration or those who support it; I share it to raise awareness, with the hope that through education and outreach, we can live in a world free of sexual violence.
Thank you in advance to all those who stand with us.