Sign up for our e-newsletter!
Newsroom
Bankers Healthcare Group Presents Donation to Vera House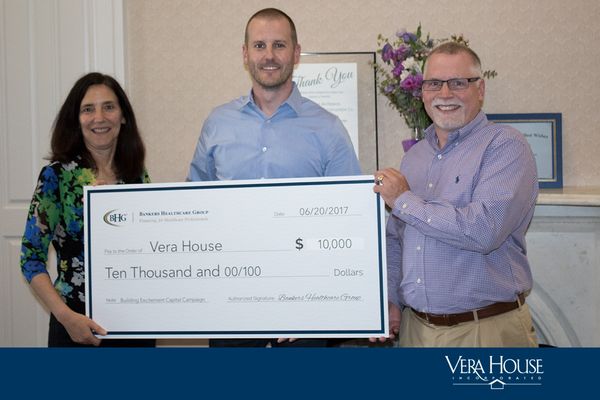 Bankers Healthcare Group (BHG), the leading provider of financial solutions for healthcare professionals, recently donated $10,000 to Vera House.
"The Vera House serves a critical need in our community and we're proud to be a partner. Our donation is in honor of Vera House staff and volunteers who are dedicated to helping those in crisis," said BHG CMO Chris Panebianco.
As part of its corporate giving program, BHG presented the donation to support Vera House's capital campaign and renovation project of its new office building. The location houses Vera House's administrative and outreach teams, offering more space and accessibility to those in need.
"Vera House is truly grateful to Bankers Healthcare Group for their generous donation to help us make our new house a home, giving us the opportunity to better serve those who come to us seeking hope and healing," said Randi Bregman, Vera House Executive Director.
BHG supports organizations in its communities of Syracuse, N.Y., and Davie, Fla., through financial donations and volunteerism. BHG is committed to partnering with nonprofits that have ties to healthcare and finance.
About Bankers Healthcare Group
Bankers Healthcare Group provides innovative, hassle-free financial solutions exclusively to healthcare professionals. Since 2001, BHG has funded more than $2.7 billion to satisfied customers nationwide and worked with more than 100,000 practitioners. BHG is proud to maintain partnerships with leading healthcare industry associations, and is continually recognized for innovation, continued growth and being a best place to work. BHG is partially owned by Pinnacle Financial Partners (PNFP). To learn more, visit www.bankershealthcaregroup.com, and follow us on Twitter, LinkedIn and Facebook.